Helensburgh Amateur Swimming club swimmer Roisin Kavanagh, age 11, has been selected by Scottish Swimming to join the West District Regional Development programme. Roisin, a first year pupil at Hermitage Academy joined the club when she was 8 years old and has been competing regularly since. She currently holds 5 club records.
The West District covers a massive area north/south from Oban to Stranraer and west/east from Islay to Bo'ness taking in Glasgow, Falkirk, and all of Ayrshire, there are 50 affiliated clubs. Selection for the programme is based upon achieving specific times over 4 events at accredited meets between November and June each year. Roisin rose to the challenge qualifying comfortably.
Only 90 children aged between 11 and 14 swimming in the west region are selected. Roisin was 1 of only 3 swimmers selected from clubs in Argyll and Bute.
Roisin will attend up to 3 day long sessions between September and December, focusing on technique and strength training. She will get the chance to meet some of the stars of Scottish swimming with day 1 being hosted by Corrie Scott, Commonwealth bronze medalist and holder of three Scottish records. Corrie providing swimming demonstrations and hosted a question and answer session for the swimmers to find out more about her and her experiences.
Selection for the programme qualifies her to attend days 1 and 2. To attend day 3 she needs to be selected from the 90 qualifying swimmers, selection for day 3 is based on performance and attitude demonstrated during the previous 2 sessions. Following day 3, only a small number of swimmers will be selected to attend further camps.
The club is very proud of what Roisin has achieved so far and wishes her the very best of luck.
If you are interested in joining the swimming club please visit our contact page.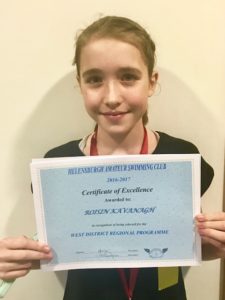 In the News… HASC Swimmer Selected by Scottish Swimming for West District Regional Development Programme