Helensburgh Amateur Swimming Club held their Annual prize giving at the weekend and what an eventful evening it was. The club were honoured to host Alan Atkinson who presented this year's winners of the Nigel Atkinson trophy with commemorative certificates. The trophy was presented to the club many years ago in memory of Alan's son Nigel Atkinson, a swimmer at the club when he died along with his sisters and mother in a tragic accident in 1981. The Trophy is awarded at each of the 5 club age group events throughout the year to the swimmer who has excelled over the period due to hard work and endeavour. Winners this year were: Ethan Parsons, Eilidh McQueen, Isabella Newman, Louisa Brown, Monty Jamieson.
Sadly the club said goodbye to Head coach and Chairman Neil Storey. Neil who has been coaching at the club for 5 years has made an enormous contribution to the development and success of the club over that period. He has left us all with very fond memories of his time and he will be very sorely missed.
There were many trophies and prizes awarded on the night the most important being the Age group Champions trophies. They were:
7 years and under – Olivia Kershaw-Yates and Edward Peace. 8 & 9 years: Alice Cummings and Zak Trail. 10 & 11 year: Caitriona Stewart & William Peace. 12&13 years girls joint winners – Rebekah Jackson & Lauren MacFarlane, boys winner Joel Miller. 14 & 15 years – Emily Miller and Alex Johnson. 16 years and over – Kate Storey and Jake Miller.
Over the last 12 months 61 club records were broken. Certificates commemorating the achievement of the record breakers were awarded to: Roisin Kavanagh, 14 records, Caitriona Stewart, 15 records, Emily Miller, 1 record, Kate Storey, 10 records, Mikey Miller, 3 records, Alex Johnson, 11 records, Jake Miller, 5 records, Jon Law, 2 records.
If you are interested in joining the swimming club please visit the "contact us" page.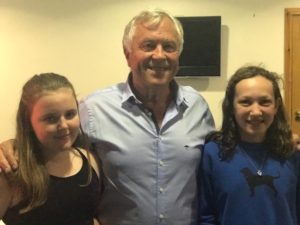 In the news… HASC Annual Prize Giving