Five Helensburgh Amateur Swimming Club swimmers recently competed at the Dumfries Spring Meet held over 2 days. Personal best times were set in 14 events and one swimmer secured 2 golds and 1 bronze medal.
It was a particularly successful meet for the youngest swimmer attending from Helensburgh, Alice Cummings, age 10, who competed in 9 events secured 2 gold medals and 1 bronze. She narrowly missed out on 4 more bronze medals coming a very close 4th place in 4 of her events. Alice also secured personal best times in 3 events with an impressive 7.19 second PB in the 200m freestyle. Alice's gold medal performances were in the 100m Individual Medley and the 50m freestyle with a bronze secured in the 50m breaststroke . She also swam in the 100m Butterfly, 100m freestyle, 50 and 100m Backstroke & the 100m Breaststroke securing four 4th place medals and one 6th place medal.
Ethan Parsons age 11 was competing in the 11-12 age group. He competed in 7 events securing personal best times in 3 events:, 50m freestyle and in the 50m and 100m backstroke.
Sandy Barbour age 12 also competing in the 11-12 age group secured 4 personal times over the weekend. The most impressive pb of the weekend was a massive 17.86 seconds improvement on his 200m freestyle time. He also improved on his 100m breaststroke time by a very respectable 6.15 seconds and secured further personal best times in the 50m breaststroke and 100m freestyle.
Thomas Forsyth and Michael Payne both age 12 were also competing in the 11-12 age group with both boys setting 2 personal best times each. Thomas secured strong pbs in the fast paced 50m freestyle and 50m breastroke with Michael securing his best time in the more arduous 200m Individual Medley followed up by a PB in the splash and dash of the 50m butterfly.
If you are interested in joining the swimming club please visit the "contact us" page on our website: helensburghasc.co.uk.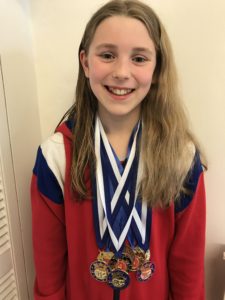 In the News… Five HASC Club Swimmers at the Dumfries Spring Meet