Helensburgh Amateur Swimming club swimmers competed in the West District long course age group championships at East Kilbride last weekend. Caitriona Stewart returned an outstanding performance bringing back 3 Gold, 1 Silver and 1 bronze medal. Roisin Kavanagh also performed strongly securing a bronze medal.
Both girls were swimming in the 11-13 age group with Rosin in the age 12 category and Caitriona in age 13. Caitriona swam consistently well over the two days securing medals in all of her events. She secured gold in the 50m Freestyle, 50m and 100m breaststroke, silver in the 100m freestyle and bronze in the 50m Butterfly. She also secured personal best times in all of her events with particularly impressive improvements in the 50m breast stroke, 2.39 seconds and the 100m freestyle, 3.92 seconds.
Roisin, swimming in age group 12 was disadvantaged by the group category of 11-13 which meant she was swimming against others at least a year older than her. In all but one of her events she was the fastest in the age 12 category. She swam strongly over both days securing a bronze medal in the 50m backstroke. She narrowly missed out on a second bronze having to settle for 4th place in the 100m backstroke in which she also secured a fantastic PB of 3.27 seconds. She was 5th in the 200m backstroke, 7th in the 200m Individual Medley and the 200m Freestyle in which she also clocked up a very impressive PB of 5.54 seconds. She finished with 10th places in the 50m & 100m Freestyle and 12th in the 50m butterfly.
A fantastic performance by both girls.
If you are interested in joining the swimming club please visit the "contact us" page on our website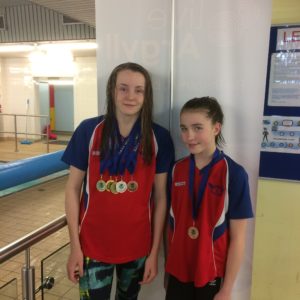 In the News… West District long course age group championships at East Kilbride