Helensburgh Amateur Swimming club swimmers travelled to the Tryst Sports Centre Cumbernauld at the weekend to compete at the West District short course junior age group Championships. Caitriona Stewart and Roisin Kavanagh continued their regional medal winning performance of the season with Roisin Kavanagh bringing back 2 gold and 1 silver medal and Caitriona Stewart a gold. Mikey Miller also returned a strong performance securing an impressive PB. Meanwhile at the East District Masters in Prestonpans ex Head Coach Neil Storey made a big splash with his return to competitive swimming after 32 years securing a gold and 2 silver medals.
Roisin Kavanagh swimming in the 11 year age group performed strongly all weekend securing a gold medal in the 200m backstroke and a PB of 1.40s. In the 100m backstroke she was first in the heats and retained her leading position in the final securing gold and a pb of 0.14s. In the 200m freestyle she secured second place and an impressive pb of 3.16s.
Caitriona Stewart swimming in the 12 year age group also performed strongly over the weekend storming to first place in the 100m breaststroke and picking up a gold medal. She secured her place in 2 finals, the 100m Freestyle and 100m backstroke. In the 100m freestyle she secured 4th place in the heats but unfortunately fell back to 5th in the final but secured a pb of 0.54s. In the 100m backstroke she was 6th in the heats and but improved to 5th place in the final. In the 200m freestyle she secured 8th place and a pb of 3.74s and in the 200IM she secured a 6th place in the heats.
Mikey Miller swimming in the 11 year age group secured 11th place in the 100m breaststroke with a strong PB of 3.12 seconds.
Neil Storey retired from competitive swimming in 1985 to concentrate on his medical career. At that time he was the men's 200m breast stroke champion in the Scottish swimming squad preparing for the 1986 Commonwealth Games. Despite a 32 year gap in competing Neil returned a very strong performance at Prestonpans. Swimming in the mixed age 50m breaststroke Neil secured a 1st , a gold medal and a pb of 1.82s. In the 50m butterfly he secured 2nd place, a silver medal and a pb of 2.45s and in the 100m Individual medley he secured another second place, silver medal and a massive pb of 13.63s. It's fair to say that Neil's performance is proof that swimming is for life!
If you are interested in joining the swimming club please visit the "contact us" page.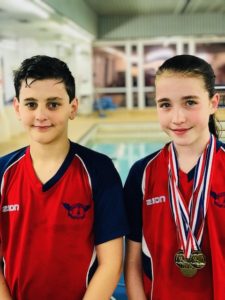 In the news… WD JAG & East District Masters