Helensburgh Amateur Swimming club swimmers brought home a stack of medals from the Argyll & Clyde Championships 2017 held at the Aqualibrium centre in Campbelltown. Clubs taking part included Inverclyde, Dunoon, Oban, Islay & Jura, Kintyre and Helensburgh. Twenty five medals in total were won by Helensburgh swimmers, 16 Gold, 3 silver and 6 Bronze. It was a long day including an evening session but that didn't stop the swimmers from doing very well. Special mention goes to four swimmers who secured gold medals in all of their races, Alice Cumming swimming in the female age 9 group, 4 golds, Emily Miller swimming in the female 15 and 14 & over age groups, 4 golds, Mikey Miller swimming in the male age 11 group, 3 golds and Alex Johnson swimming in the male 15 and 14 & over age groups, 4 golds.
The remaining individual medal winners were:
Swimming in the female age 12-13 and 13 and under age groups Caitriona Stewart secured 1 gold, 2 silver and 1 bronze medals.
Swimming in the male age 14-15 age group, Ryan Thomson, 1 silver and 1 bronze.
Ethan Parsons, Michael Payne, Jasmine Mansfield and Rachel Hughes all secured a bronze medal each.
The Helensburgh 14 and over 200m freestyle relay team comprising Caitriona Stewart, Emily Miller, Ryan Thomson and Alex Johnson also secured first place in their event adding a gold medal each to their individual totals.
There were also some fabulous personal best times secured notables ones being Ethan Parson securing an improvement on his 200m freestyle of a whopping 42.57 seconds, Rhianna MacFarlane securing an improvement on her 100m breaststroke of a fantastic 33.22 seconds and Ryan Thomson securing an improvement on his 200m freestyle of a very respectable 27.78 seconds.
Swimmers securing personal best times in all of their events were Alice Cummings, Eva Greig, Bella Kerr, Ethan Parsons, Michael Payne, Isabella Newman, Rhianna MacFarlane and Jasmine Mansfield.
If you are interested in joining the swimming club please visit the "contact us" page.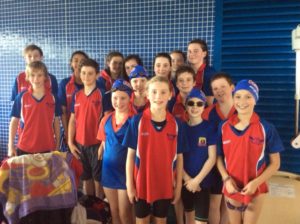 In the News… HASC swimmers brought home a stack of medals from the Argyll & Clyde Championships 2017