Helensburgh Amateur Swimming club swimmers were out in force at the West District sprint and Relay Championships held in the Citadel sports centre in Ayr last weekend. The girls triumphed with an outstanding performance by Caitriona Stewart, a very strong performance by the girls age 11 & 12 relay team comprising Roisin Kavanagh, Kirsty Trail, Rachel Stewart and Caitriona Stewart and an individual medal winning and club record breaking performance by Roisin Kavanagh. Caitriona brought back 3 Gold and 1 Silver for her individual performance and a bronze relay medal, Roisin 2 bronze medals one each for her individual and relay performances. Kirsty Trail & Rachel Stewart each secured a bronze relay medal, their first regional medals.
Caitriona Stewart swimming in the 12 year age group performed very strongly all weekend storming to first place in the 50m Freestyle, 50m backstroke and 50m breaststroke and took second place in the 50m Butterfly. She also secured personal best times in all of her events.
The girls relay team swam really well timing the changeovers perfectly to secure a bronze medal in the 11-12 200m freestyle and narrowly missed out on a second bronze having to settle for 4th place in the 11-12 200m Medley. A fantastic achievement at regional level.
Rosin age 11 was swimming in the 11-12 year age group against swimmers up to a year older than her. Her performance in the 50m backstroke was particularly impressive as she secured 2nd place in the heats but was just piped in the final having to settle for bronze. She also put in a record breaking performance in the 100m Individual Medley with a time of 1.20.05s breaking the club record of 1.23.19 by more than 3 seconds, a record previously set by Olivia Dougan in 2012.
Whilst the 4 girls monopolised the weekend's medals strong performances were returned by the rest of the team with personal best times secured in 26 events. Ryan Thomas and Alex Johnson secured personal best times in all of their events with Jasmine Mansfield, Emily Miller, Kirsty Trail, and William Peace securing personal best times in one or more of their swims.
If you are interested in joining the swimming club please visit our "contact us" page.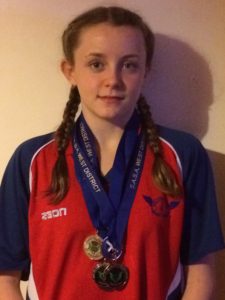 In the news… West District Sprint and Relay Championships