Helensburgh Amateur Swimming club swimmers Jon Law and Kate Story represented the club at the Scottish National Open Championships in Aberdeen recently. The competition which included the Scottish Para event hosted swimmers from 90 clubs from across the UK. The competition has no age groupings meaning the Helensburgh swimmers were competing directly against swimmers of all ages, Team GB members and a wide variety of University teams.
Jon Law, 20, swimming in the para event class S13, qualified for 7 events. He performed strongly in the heats qualifying for all 7 finals. He secured 2nd place in the 400 Freestyle, 4th place in the 50 Freestyle and in the200m individual medley, 5th place in the 100 freestyle and 7th place in the 100 backstroke. Great results, but by far the highlights of the event came in the 100m fly and 100m breaststroke with Jon smashing 2 Scottish Para records that he already held. In the 100m breaststroke he knocked almost 3 seconds of of the record set in July 2016 reducing it from 1.22.19 to 1.19.45. In the 100m Fly he improved the record set by him 12 months ago by well over a second from 1.07.52 to 1.06.31.
Kate Storey, 18 also qualified for 7 events. She swam strongly over the course of the weekend moving multiple places up the rankings narrowly missing out on places in at least 2 of the finals. She secured 25th place in the 50m freestyle, 28th place in the 50m breaststroke, 31st place in the 100m breaststroke, 33rd place in the 100m freestyle, 37th place in the 200m breaststroke, 38th place in the 100m Butterfly and 44th place in the 50m butterfly.
If you are interested in joining the swimming club please visit the contact us page.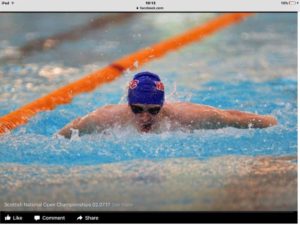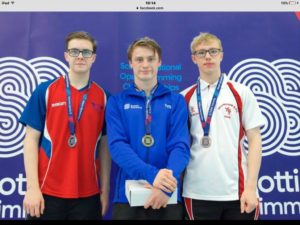 In the news… Results from the Scottish National Open Championships